See on Scoop.it – Inclusive Business and Impact Investing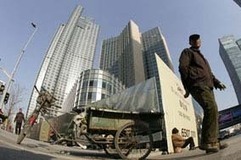 Over the past two decades, the Asia and the Pacific region has sharply reduced its share of population living in poverty to 21% ($1.25 per capita income/expenditure at purchasing power parity of 2005) and 47% ($2), as of 2008.
Many countries in the region have broadened their approach toward economic development – promoting inclusive and sustainable growth strategies that can benefit the poor and vulnerable. While the private sector has been a key contributor to the economic boom in Asia, it has yet to fully realize its potential in creating shared value, that is to promote business models that integrate the low-income segment in unique and innovative ways that generate growth while creating value for the low-income segment and directly contributing to poverty reduction.
As such, there is increasing consensus among experts that private sector growth can be a powerful tool in the global fight against poverty if it were to focus on creating impact at the lower income groups.
See on www.adb.org