See on Scoop.it – GIBSIccURATION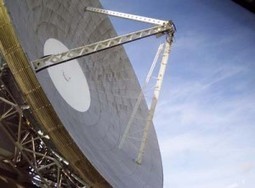 Square Kilometre Array (SKA) South Africa, a business unit of the country's National Research Foundation, is joining the Netherlands Institute for Radio…
KISs @GIBS's insight:
Ackn. it-online – Excascale research –
"The SKA is an international effort to build the world's largest and most sensitive radio telescope, which is to be located in southern Africa and Australia to help better understand the history of the universe.
The project constitutes the ultimate big data challenge, and scientists must produce major advances in computing to deal with it. The impact of those advances will be felt far beyond the SKA project – helping to usher in a new era of computing, which IBM calls the era of cognitive systems.
When the SKA is completed, it will collect big data from deep space containing information dating back to the Big Bang more than 13-billion years ago. The aperture arrays and dishes of the SKA will produce 10 times the global Internet traffic, but the power to process all of this data as it is collected far exceeds the capabilities of the current state-of-the-art technology."
See on www.it-online.co.za