Curated by GIBS IC staffer Magdel Naude / See also  on Scoop.it – Centre for Business Analysis & Research – CBAR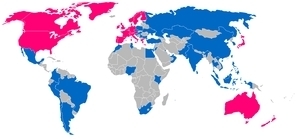 History is, to a great extent, a tale of great powers:  Athens vs. Sparta, Rome vs. Carthage, the Axis vs. the Allies and NATO vs. the Warsaw Pact.  Great nations drive great events.   That is, until fairly recently.  While North America and Europe struggle to return to prosperity, BBVA research predicts that 68% of global economic growth over the next decade will come from emerging markets.  So the greatest opportunities are likely to come from some of the most unlikely places.  However, few executives are ready to deal with the challenges developing business environments present.  Cultural, governance and management challenges meet you at every turn and conventional business experience is often a poor guide.
GIBS Information Centre / GIBSIC's insight:
via BBVA  "In 2010, BBVA Research created a grouping of emerging markets1 called EAGLEs (Emerging and Growth-Leading Economies), whose contribution to world economic growth in the following ten years is expected to be larger than the average of the leading industrialized nations, namely the G6 countries (due to its size the US is excluded from the benchmark but not from comparisons with the EAGLEs).
As a part of the proposal, the EAGLEs' Nest was also created as a watch list of emerging countries with expected incremental GDP in the following ten years2 to be lower than the G6 average but higher than the smallest contributor of that group. Those economies could be part of the EAGLEs in the future if they are able to improve their performance above the current forecasts."
See on www.forbes.com